On The Road
2021-09-29
On The Road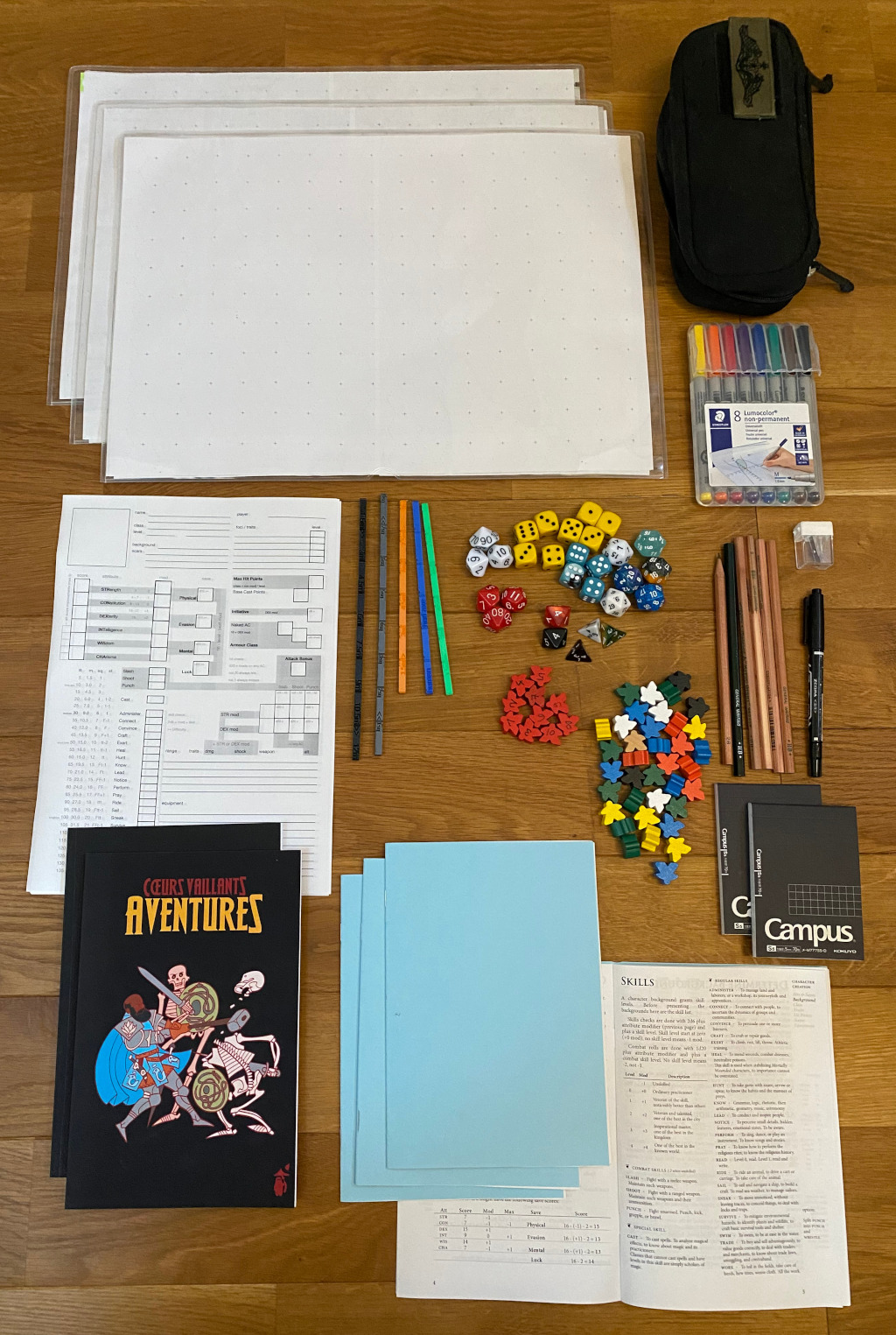 This is not an everyday carry post. It looks a bit like it, but it's more a travelday carry post. TDC?
I'll be on the road in the old country and I hope to play with family and old friends.
pouch with molle system on the back
3 × A3 battlemats with squares and squeezed hexes
set of non-permanent markers
set of pencil with small sharpener
permanent marker (to flag the meeples)
2 × small notepads
4 × staple stitched homebrew rules
5 × blank character sheets
Gallant & Bold Aventures and Frost Ogres
10 × numbered red meeples for the opposition
meeples in various colours for the adventuring party or terrain features
3 × 30ft sticks (human walking distance for one round)
2 × 40ft sticks (other)
dice (many d20 for combat and saves, and many d6 for char creation and skill checks)
2 × erasers (not in the picture)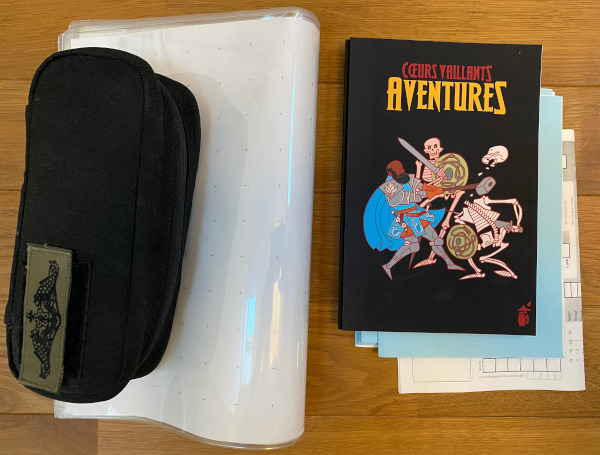 The rules used are homebrewed, so I could fit them in staple stitched booklets and I printed enough so that each player will have her or his copy.
For the next iteration, I'll make landscape oriented character sheets, they'll thus match the A5 booklets.
I'm taking Frost Ogres and Adventures. Not sure I'll play the first one, as it's a campaign, but I'm planning to run "Du Rififi à Maupertuis" from Adventures, it seems it's a convenient one shot. The books are in A5 format as well, but not saddle stitched, I hope the binding will hold.
I still have a bit of light work adapting the monsters to my ruleset, but it's merely computing the saves and the attack bonuses.
comments
very cool
What are/where do you get those measuring sticks from? They look nice and easy to use.
Hello, I designed and 3d printed them myself. I wrote Thirty Fourty Sticks about them last year.
If you have access to a 3d printer feel free to print them. Here are the files:
Thanks and best regards.